25 Aug

Abg Johari foresees MetroCity as centre of development in Matang in near future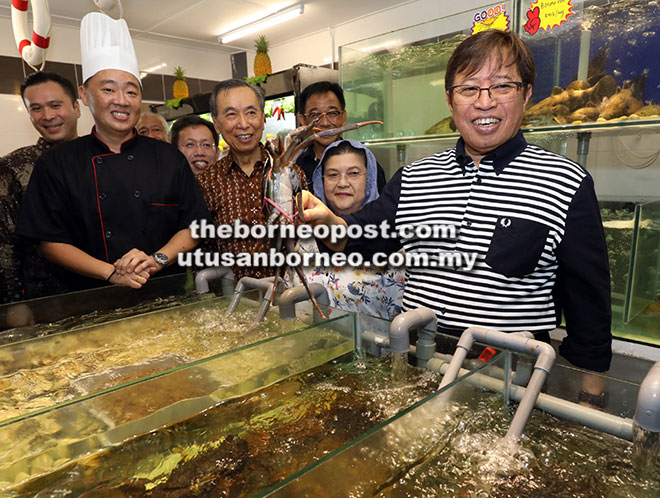 KUCHING: Chief Minister Datuk Amar Abang Johari Tun Openg is confident that MetroCity will be the centre of new development in Matang in five or 10 years` time.
In noting that it is a very challenging task to develop Matang, he congratulated Chong Kia Hoi (CKH) Realty Group for their bold move to accept the challenge by former chief minister Tun Pehin Sri Abdul Taib Mahmud to develop the area.
"Of course, this is a very challenging task to develop this part of Kuching. But I must congratulate CKH Realty Group for their bold move to accept the challenge by the former chief minister (Tun Pehin Sri Abdul Taib Mahmud) to develop this part of Kuching.
"Today, this part of Kuching has been transformed into a satellite township that complements the development taking place in Kuching North City. Of course, as the successor to the two chief ministers, I'm willing to promote this area and of course to upgrade the facilities surrounding this particular township," he said when officiating at the opening ceremony of MetroCity Seafood Garden at Jalan Matang, here, on Wednesday.
Abang Johari also applauded CKH Realty Group for their initiative to set up MetroCity Seafood Garden, which he believed would become another attraction in the Kuching City North area.
Being named 'Metrocity Seafood Garden', Abang Johari hoped that there would be green surroundings within the seafood outlet area, something unique and different from other seafood outlets in the city.
"At the same time, the environment must be clean, green and windy. This will allow patrons to feel the green environment of the garden that gives you a certain sense of enjoyment and therefore once you enjoy the environment, you enjoy the food."
Abang Johari also encouraged CKH Realty Group to promote their food online, which he believed would ignite curiosity among Internet-savvy visitors, including tourists, to find out more about MetroCity Seafood Garden.
"I would also like to mention here that this area will be connected with Kuching City through the bridge that we are constructing now that connects Matang with Kampung Maong. This means that people from that side of Kuching City will also come here after the completion of the bridge."
He also congratulated CKH Realty Group for their effort to build a hotel that will be situated next to MetroCity Seafood Garden, which would attract visitors to come and enjoy the attractions from Samariang towards Damai.
"What is important is we also plan for our logistics – meaning the route so that tourists can easily access areas of attraction in this part of Kuching."
Meanwhile, CKH Realty Group managing director Datuk Chong Kia Hoi said the MetroCity development project covering 183 acres of land is a mega project in Kuching City North that requires total commitment and dedication from the company.
"We have completed nearly 70 acres of development so far. Some of my friends told me MetroCity has now become a food haven. True, we have McDonalds, KFC all operating 24 hours besides other eating outlets like Pizza Hut, Sushi King, Nasi Kandar and Aroma Desa.
"But tonight, I will add another eating outlet called MetroCity Seafood Garden. We will be operating 24 hours. This is to cater for the seafood lovers. I'm sure you love seafood, I love seafood. That's why I invested to build this seafood outlet here. MetroCity Seafood Garden with a built-up area of 12,000 sq feet is divided into two sections – the air conditioned and alfresco."
According to Chong, this seafood garden can accommodate up to 480 people.
"Our focus is seafood. This seafood operator is from Peninsular Malaysia. He's a very good chef. I told him he must have live fish, prawns, crabs and remember, one thing, your price must be reasonable."
He called on Tourism, Arts, Culture, Youth and Sports Minister Datuk Abdul Karim Rahman Hamzah to help promote MetroCity as a tourism spot.
"You can see next door (of the seafood garden) a hotel will be built with 120 rooms. It has been approved by Kuching North City Commission (DBKU). We even have the building plan approved."
With a very successful youth night market in MetroCity, Chong believed that with the state government's support and guidance, MetroCity will be able to attract not only local visitors but also tourists.
During the event, Chong handed over contributions of RM10,000 from CKH Group to Lembaga Kebajikan Anak-Anak Yatim Sarawak and Sarawak Heart Foundation. The mock cheques were received by Abang Johari's wife Datin Amar Datuk Juma'ani Tun Tuanku Bujang.
Among those present were Abdul Karim and his wife Datin Zuraini Abdul Jabbar, Local Government and Housing Minister Datuk Dr Sim Kui Hian, Assistant Minister of Law, State-Federal Relations and Project Monitoring Sharifah Hasidah Sayeed Aman Ghazali, Tupong assemblyman Fazzruddin Abdul Rahman and Datuk Bandar of DBKU Datuk Abang Abdul Wahap Abang Julai.
(Taken from The Borneo Post)